We have worked with ReFi Türkiye to turn regenerative finance into an adventure with learning communities, events and educational content.
ReFi Türkiye is a regenerative finance platform bringing together diverse stakeholders to foster a new economical approach and address critical global challenges.
The platform is co-founded by Akbank and imece to inspire Web3 and impact ecosystems through real-life use cases, empowering leaders to adopt a regeneration mindset.
The collaboration between one of Turkey's largest banks and a social innovation agency, targeting this region which is at the forefront of many global crises, has ignited our excitement for this transformative call.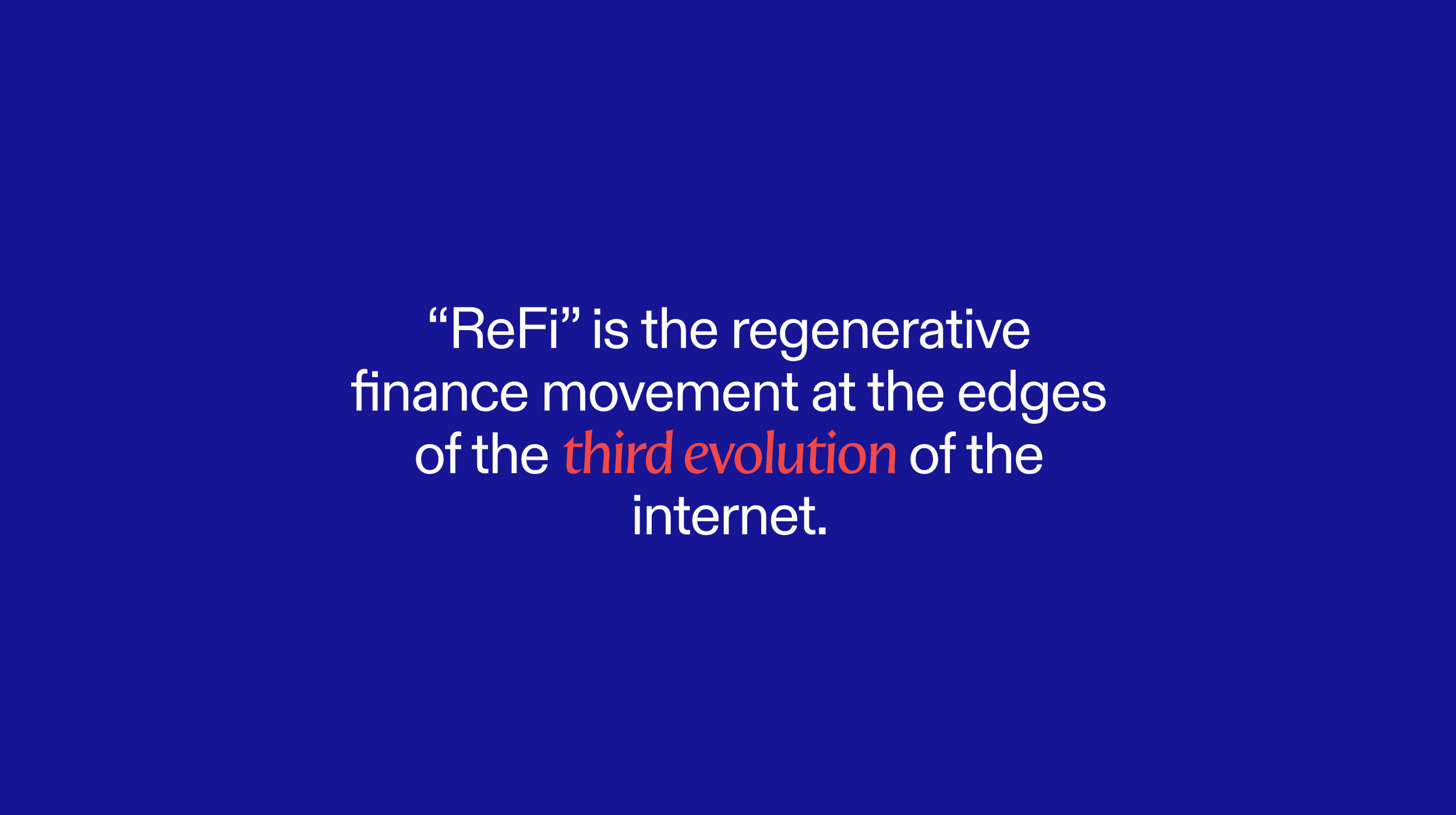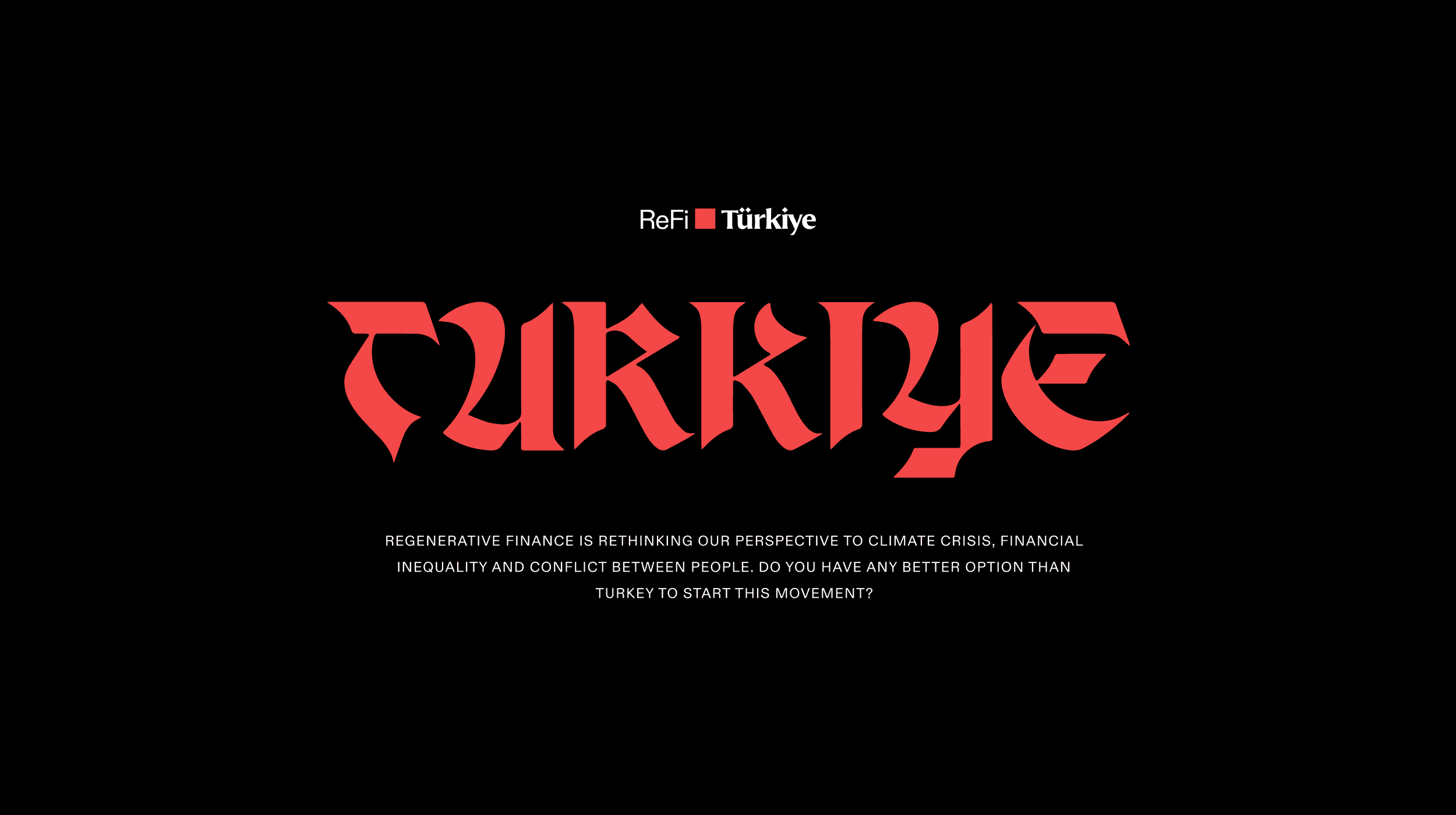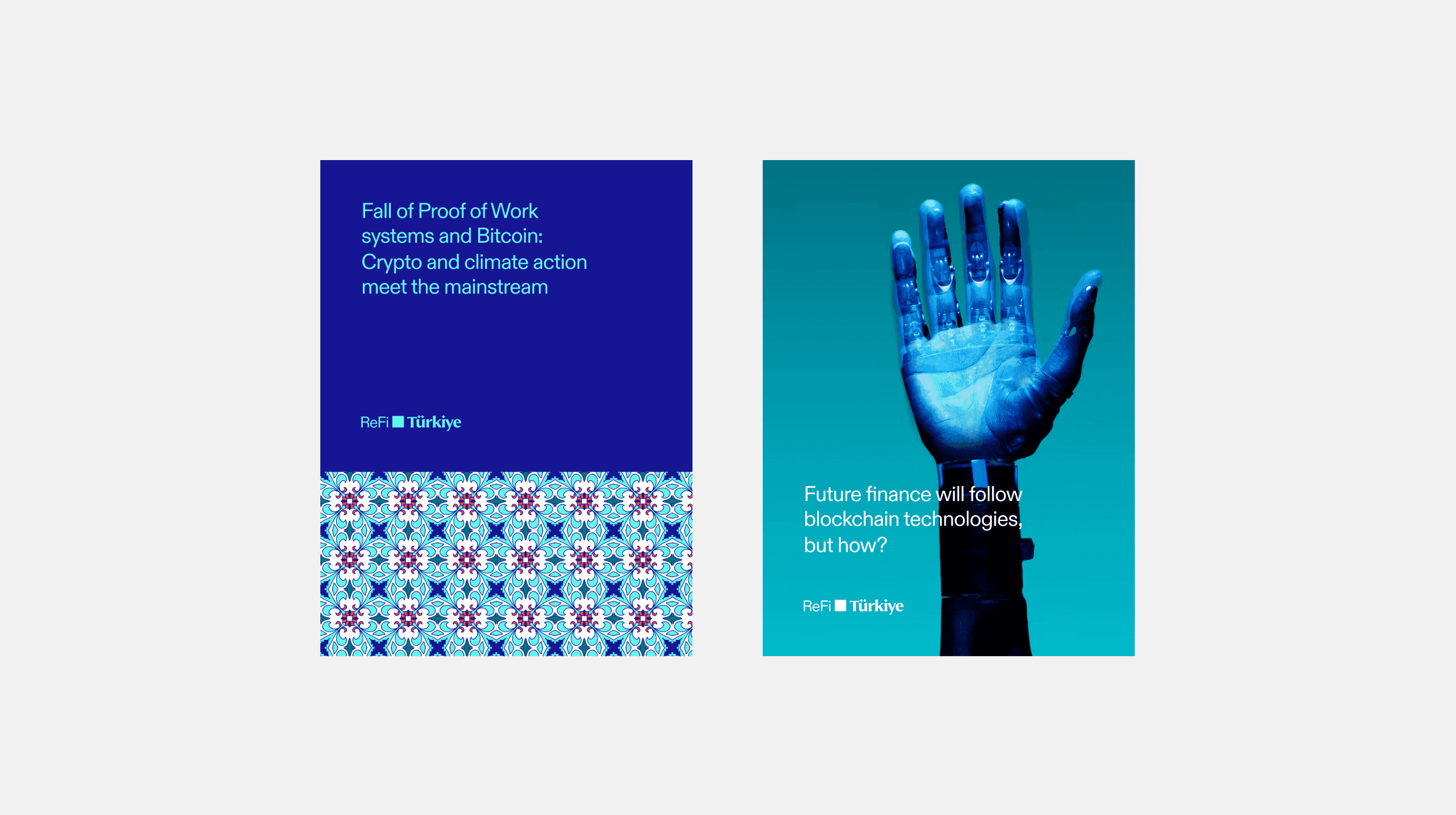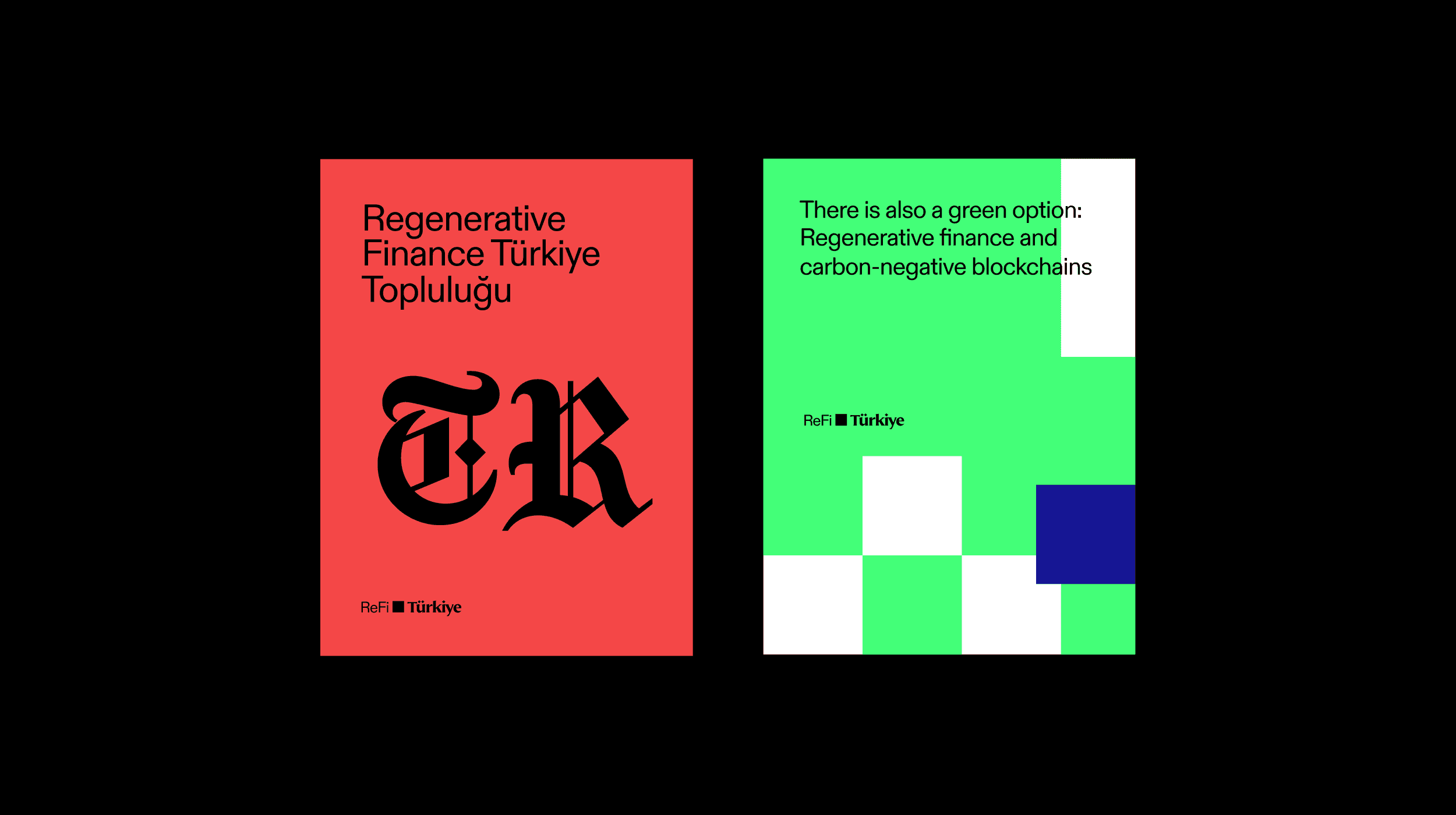 We aimed to create a brand that embodies growth, both on an individual and collective level, by embracing the constant pursuit of progress. At the heart of the brand's identity lies a logo that visually captures this upward progression, depicted in a three-dimensional perspective.
ReFi Türkiye employs this graphical representation dynamically across its communication materials, striking a harmonious balance between a serious academic tone, while also drawing inspiration from Turkish culture through the use of mosaic patterns. These visual elements effectively segment content and information, conveying the brand's steadfastness and strength.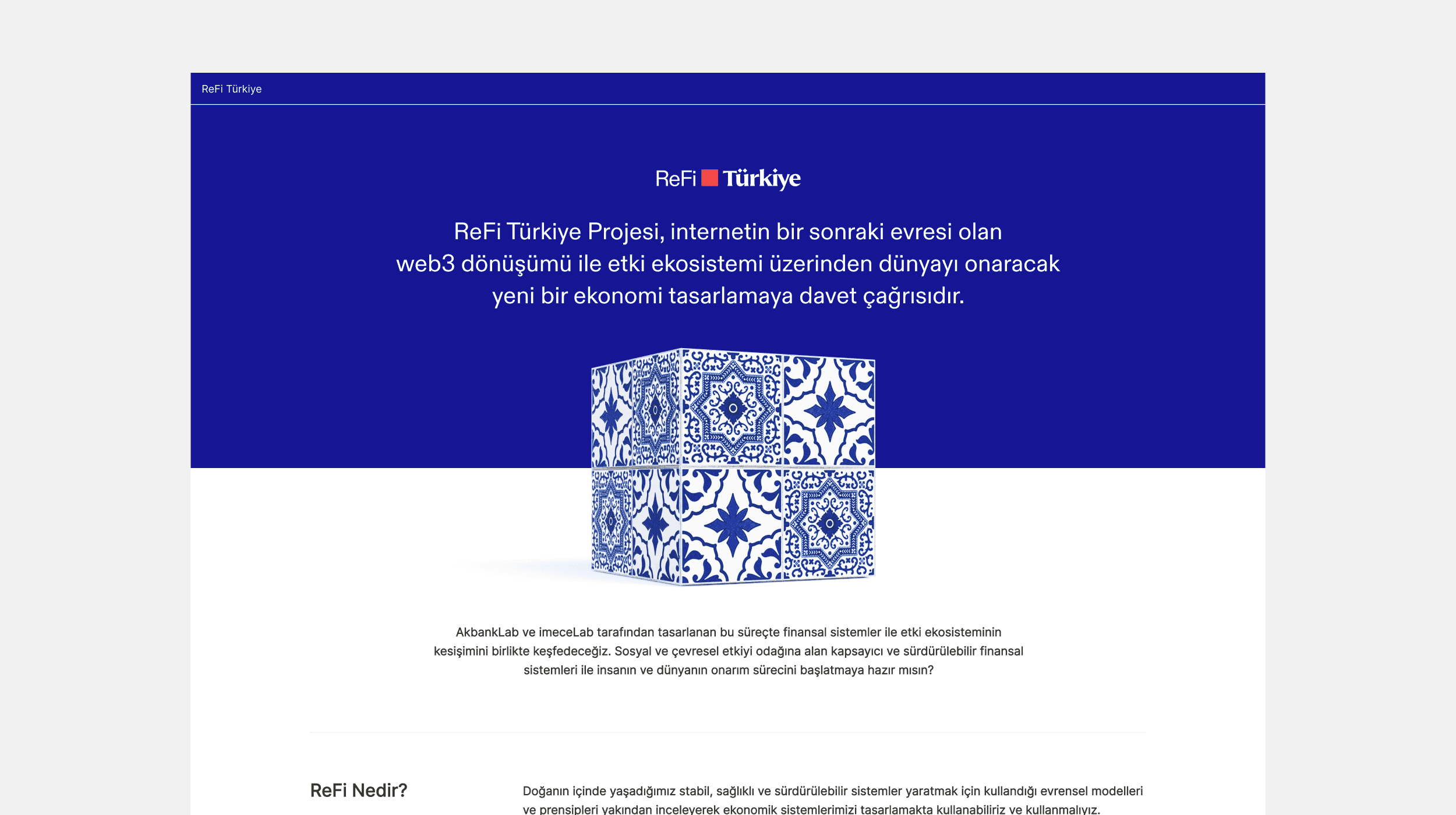 We extend this approach to ReFi Türkiye's web page, where we continue to expand our vision. Utilizing the Notion app, we have designed a space that accommodates all contributors while preserving our distinct visual identity. This allows us to foster collaboration and knowledge sharing while maintaining a cohesive and protected visual approach.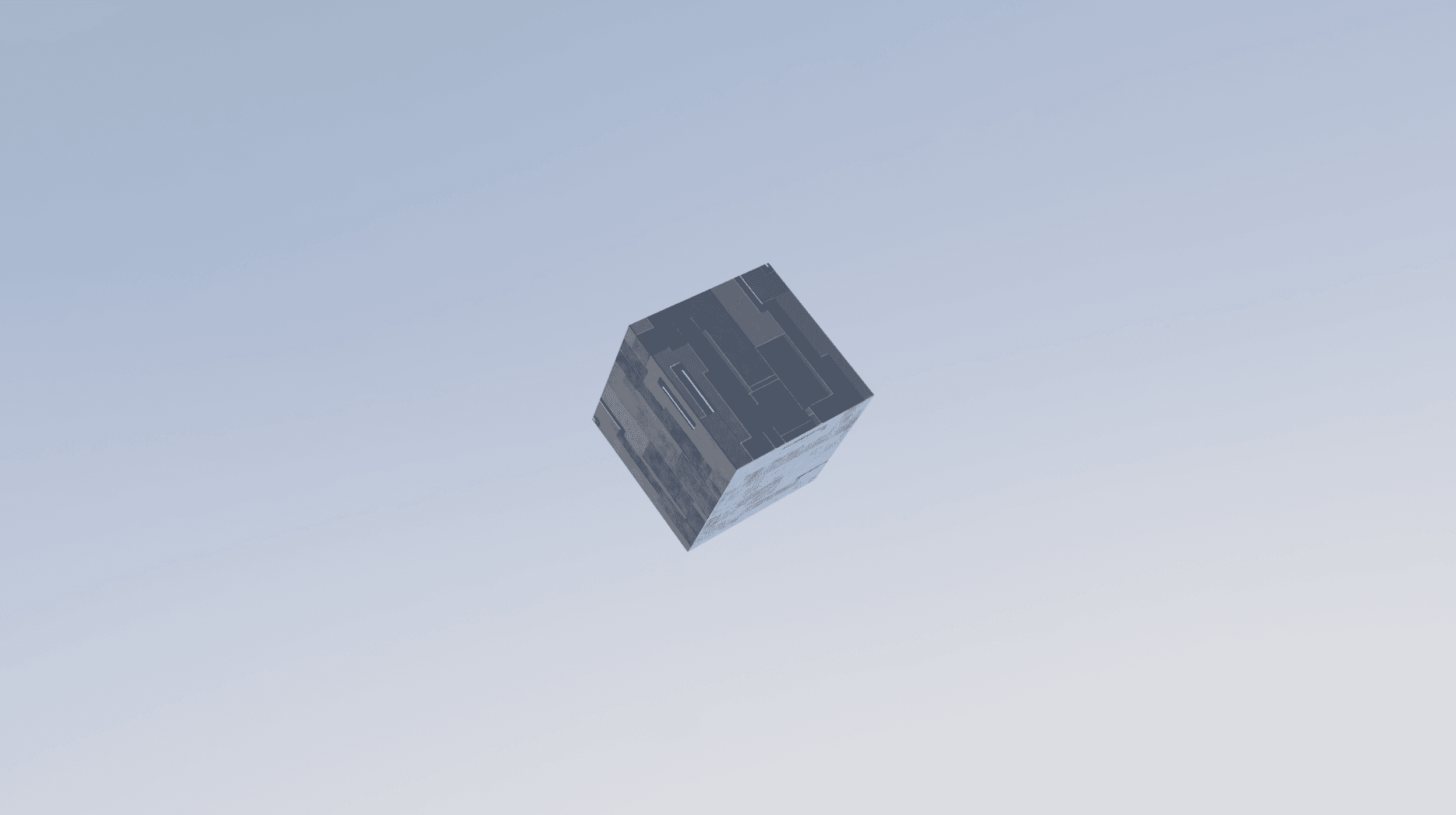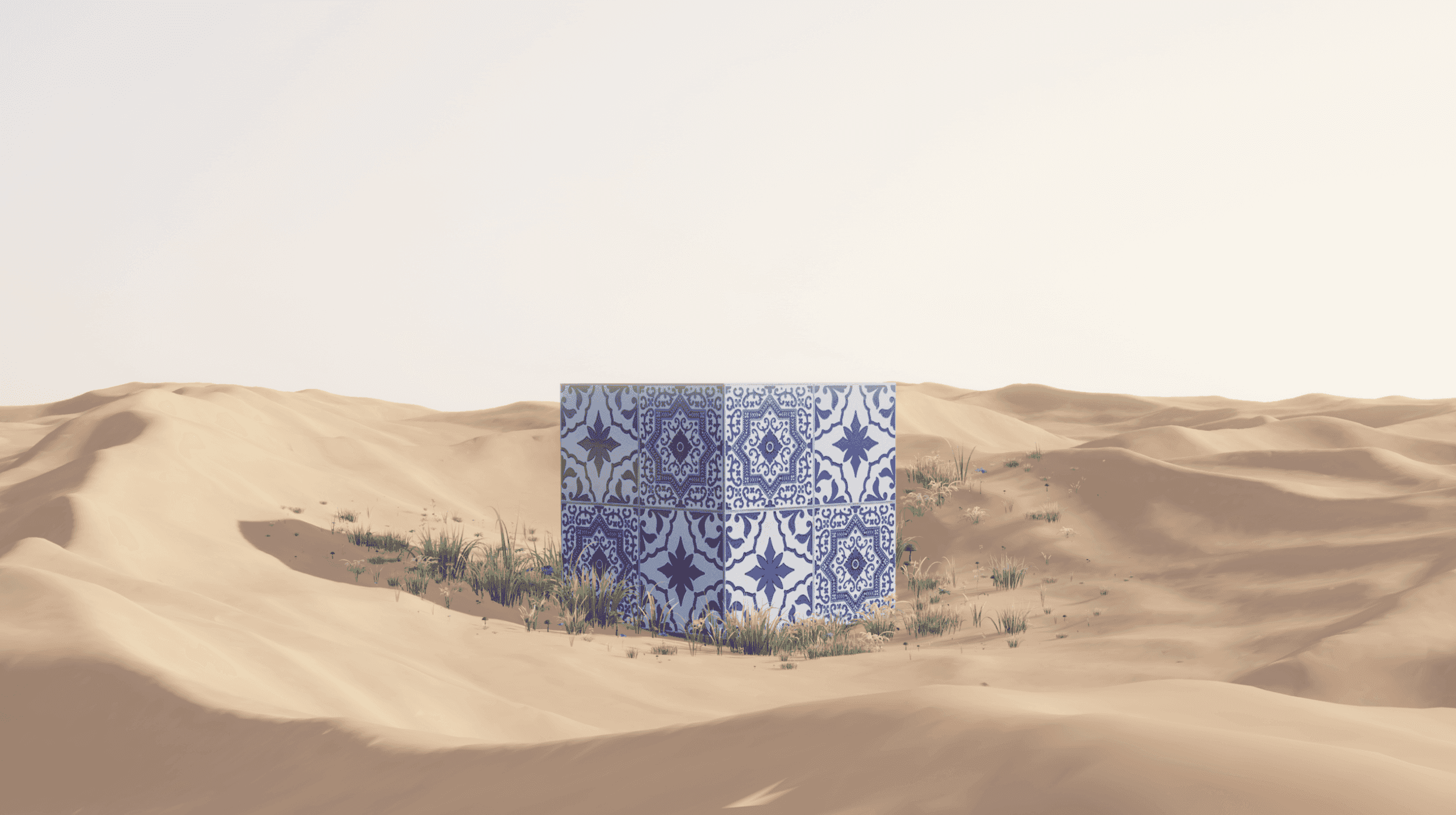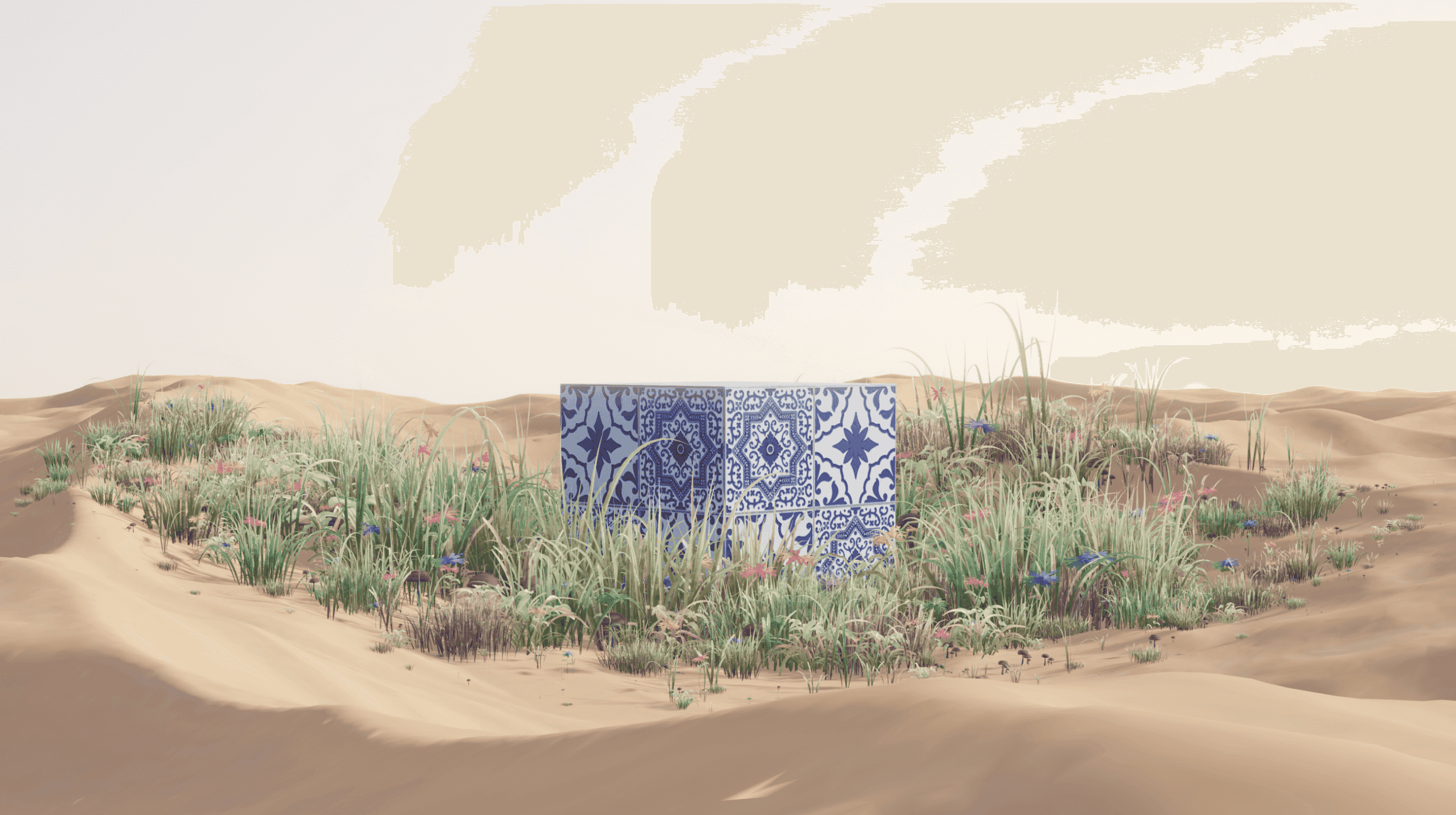 Taking inspiration from the interconnectedness found in the cyclical patterns of regenerative farming, we devised a series of cubes that symbolize the diverse range of possibilities within ReFi Türkiye's framework. These distinct icons harmoniously unite the philosophy behind Satoshi's concepts with the organic essence of natural growth and sunlight, seamlessly encapsulating the comprehensive offerings of ReFi Türkiye. With a design that is both adaptable and practical, it can effortlessly transcend any medium or platform, giving the team an ever-evolving identity that never stops growing.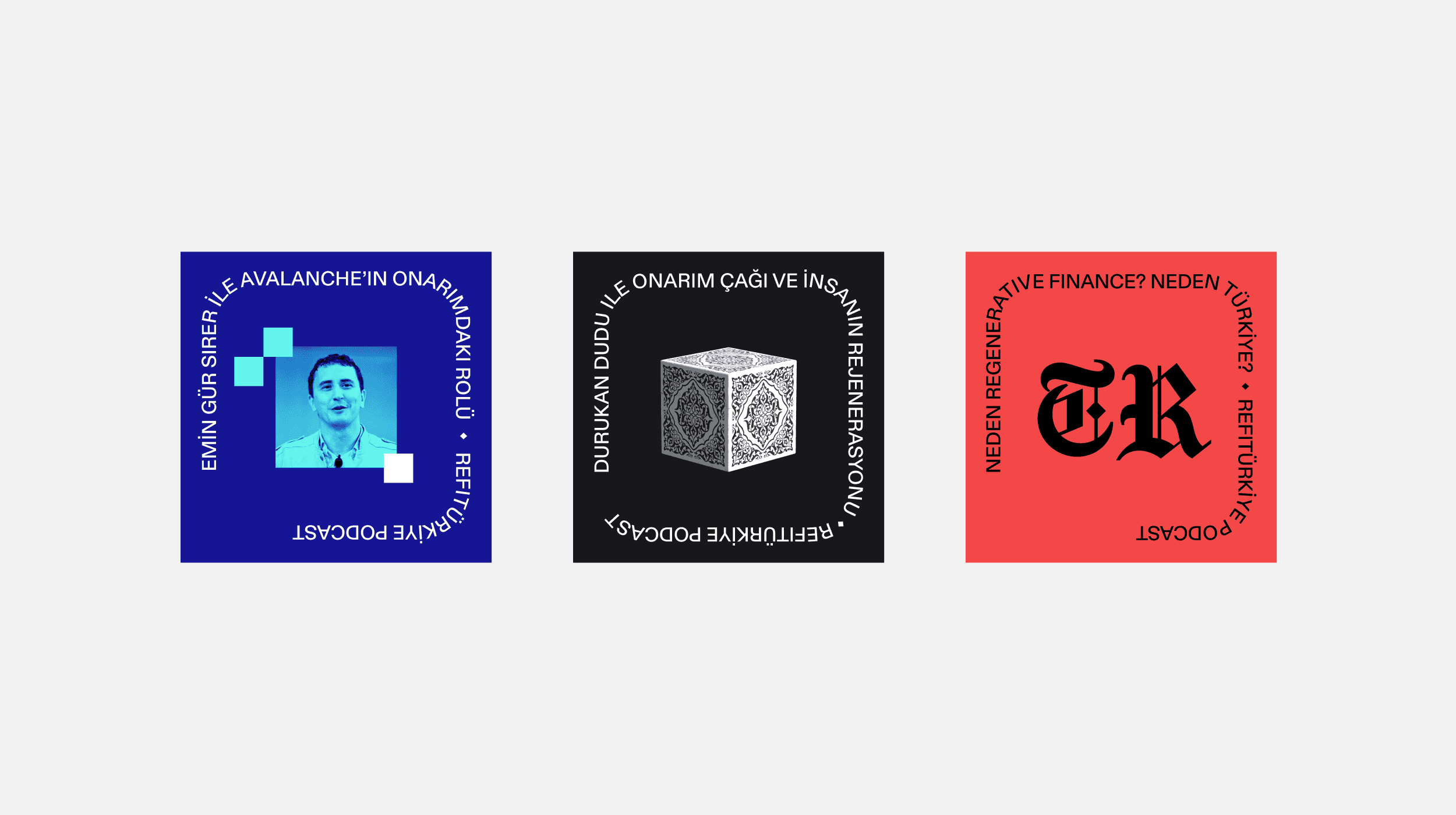 We've taken our design efforts to new heights, crafting captivating podcast episode covers that effortlessly adapt to various mediums, captivating audiences wherever they may be.
Our design system goes beyond the confines of digital spaces, extending its immersive experience to real-life events. The iconic cube figure, with its versatile meanings and textured aesthetics, becomes a symbolic centerpiece, enriching every event it graces with its depth and visual allure.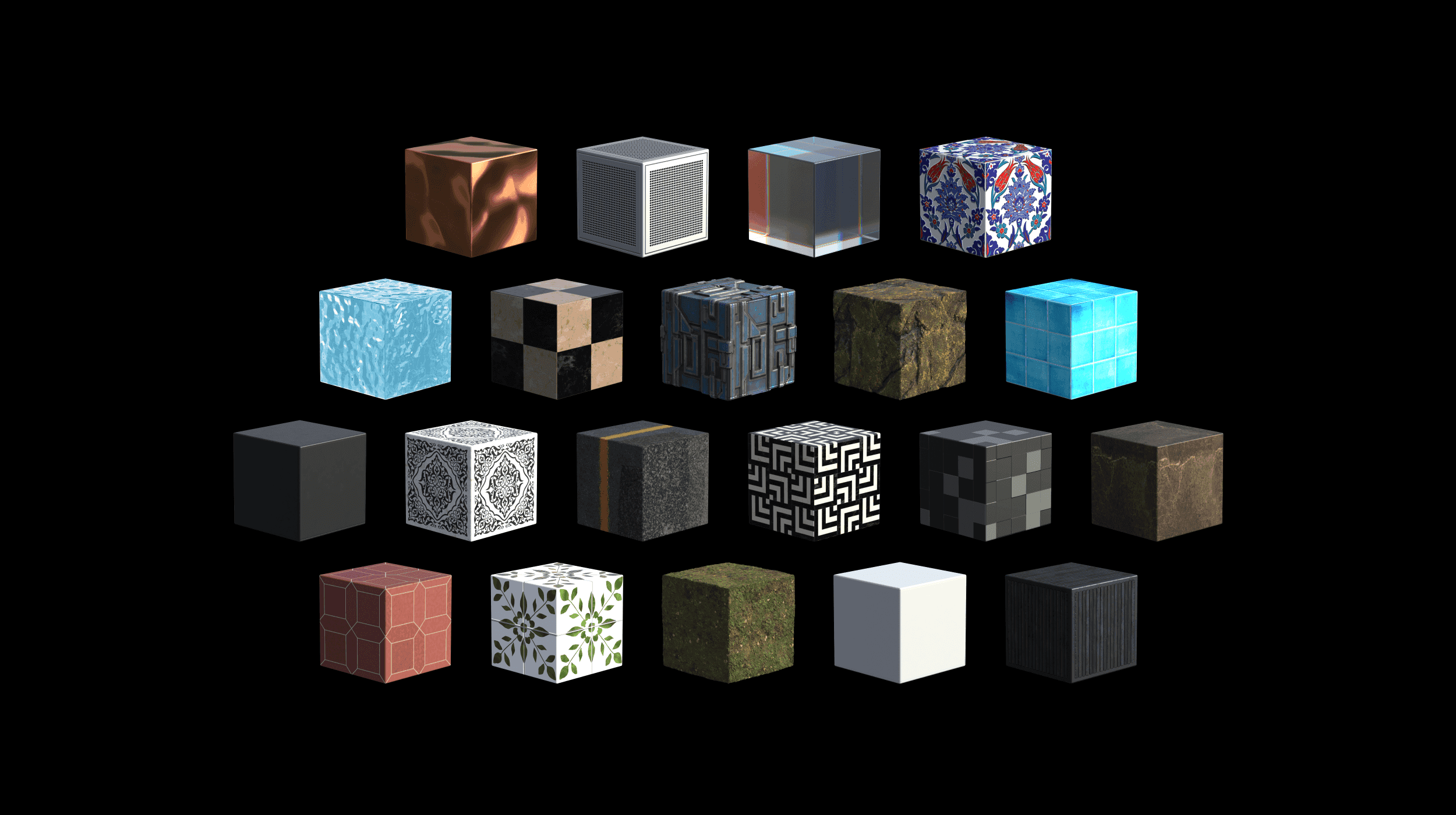 At ReFi Türkiye, we believe in striking the perfect balance between IRL and virtual learning. That's why we've meticulously designed unique learning journeys, infused with the power of non-fungible tokens (NFTs) and powered by the Proof-of-Attendance-Protocol (POAP). Brace yourself for a realm of engagement and interaction, where participants are rewarded for their presence and active participation.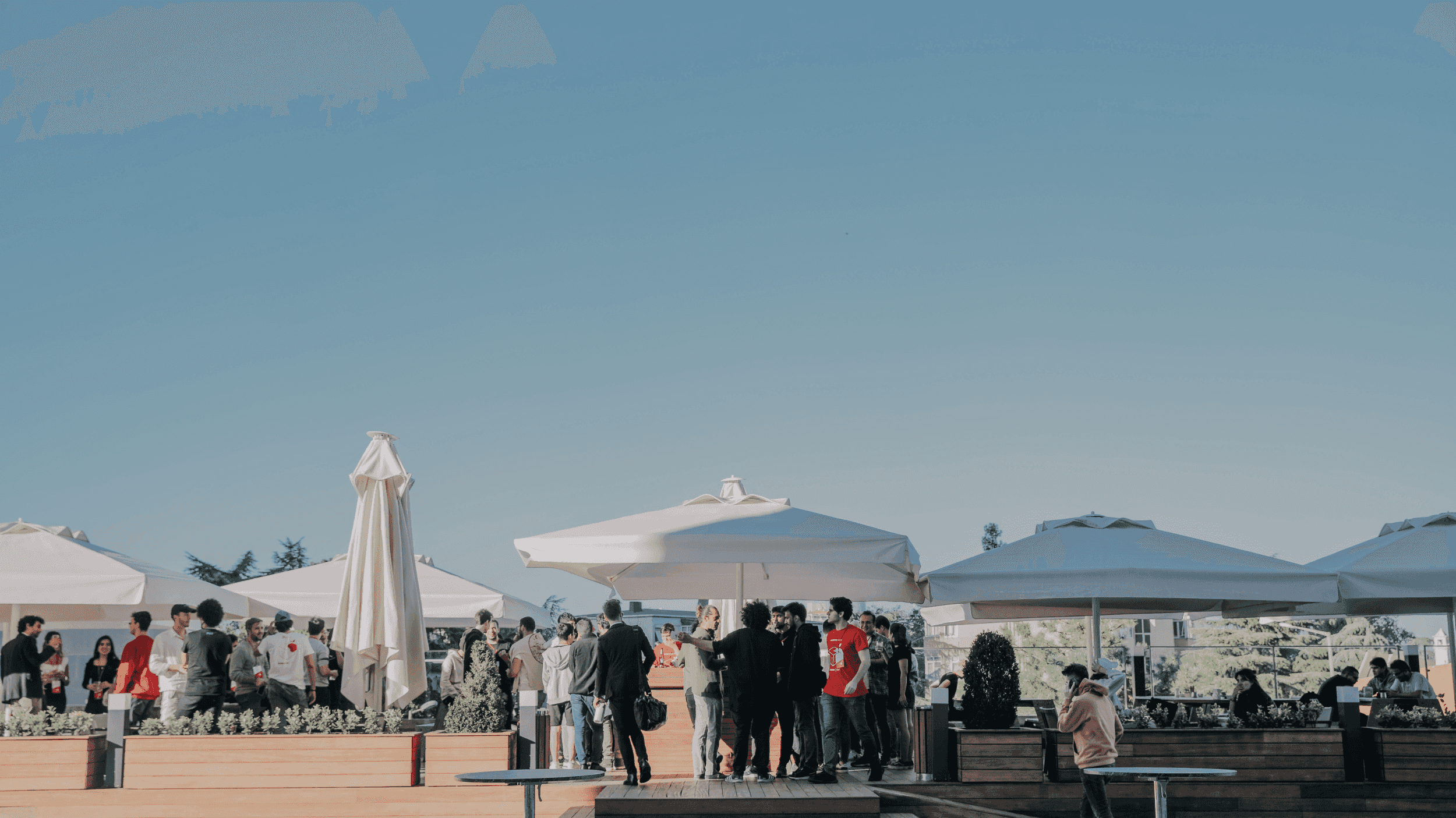 In summary, ReFi Türkiye is a groundbreaking regenerative finance platform that emerges as a result of a collaborative effort between Akbank and imece. With a transformative approach at its core, ReFi Türkiye strives to tackle global challenges head-on.
From the very beginning, Zero Bytes Foundation has been an integral partner, working hand in hand to craft an immersive brand system for this remarkable learning journey. Together, we have successfully developed a flexible and robust brand system, encompassing a wide array of elements and achievements.